RE Terrain: on Bandcamp
10 artists remix David Moss' 1980 solo LP, Terrain:
SAM AUINGER   www.samauinger.de
BUDO   www.budomusic.com
FRANCESCO CALANDRINO   soundcloud.com/francesco-calandrino
BORIS HEGENBART   www.soundblocks.de
HANNO LEICHTMANN   www.hannoleichtmann.com
CHRISTIAN MARCLAY   whitecube.com/artists/artist/christian_marclay
OTOMO YOSHIHIDE   www.otomoyoshihide.com
FRANK SCHULTE   www.soniq-id.net
HANNES STROBL   www.hannesstrobl.de
TEMPO REALE (Francesco Giomi, Francesco Canavese, Damiano Meacci)    www.temporeale.it
please go to: davidmossreterrain.bandcamp.com
———————————————————————————————
In fact, 2020 is the 40th anniversary of my solo percussion/voice LP, Terrain.
So, in celebration, I invited those artists (colleagues old & new) to choose any part(s)
of the LP and "do whatever you want with it: remix, manipulate, add, subtract, change".
——————————————————————————————
Streaming is free. Each track, and the album, can be downloaded for a nominal price.
I've also included the original Terrain LP here, free to stream, etc.
(digitally re-mastered from the 2-track stereo audio-tape master)
David Moss, Berlin 2020
—————————————————————————————–
Several contributors included some text:
Frank Schulte
It was absolutely inspiring to work with David's marvelous early sound visions.
Remixing feels like working with acoustic ready-mades, which I did mostly in my
early works and my first cooperation with David starting 1991. This reminiscence
plus the timeless approach of the original founded the base for this work.

Francesco Calandrino
I manipulated all the pieces of Terrain. I work with old stereos, so I recorded all the sounds onto audiocassettes; and then my caveman approach built a retro-texture like the black & white TV era.

Christian Marclay
Here's a recipe for you to carry out. You can be the DJ!
Play all the cuts from Terrain simultaneously at 78 RPM. You can do it on a computer, speeding up
each track while maintaining the original pitch. So no chipmunks sounds.  And then stack them,
one on top of the other to play all at once. Starting together and ending when they naturally end.
Title: Fast Stack, 2019       Engineered by David Moss
Sam Auinger
At the beginning of the 80s, I experienced a concert of David's for the first time in a small club (Stadtwerkstatt) in Austria. The almost untamable musical energy in his voice and his drums and percussion playing has been a never-ending source of inspiration for me ever since. The track I chose from this unique record and the mix I created is a dialogue between him, his unrestrained
musical power, and the power and beauty of a tidal harp on a beach of Itapariza, recorded together with my long term artistic partner Bruce Odland (O+A). I feel very honored to be part of this project.
—————————————————————————————–
A bit of history:
My first solo concert was in 1973. Terrain was recorded in Aug/Sept 1980 – my first solo album.*
Looking back 40 years later, it documented 3 main areas:
 the development of my drumming and percussion concepts from 1972-80
  the end of my totally acoustic music period (electronics and amplification and
sampling were just around the corner)
  the initial burst of vocal experimentation which led to 40 years of singing
The LP was released at the end of 1980 (Cornpride 007), with a pressing of 1000 copies. It was
never re-released or reprinted as an LP or CD, and has basically been unobtainable since 1990.
Side A of the Terrain LP consists of seven solo pieces (some with voice), each an unedited single
take with no overdubs.
Side B has 4 overdubbed pieces (on 4-tracks): one is voices only; one combines voices and
glass jars; two combine voices with strings and percussion sounds.
In the brief liner notes on the LP I wrote: "I am interested here in texture, line, momentum,
surprise, density, language, tangibility and shape." Still true after 40 years (just add memory, song and stories)!
———————————————————————————-
* Side A: recorded at WXXI, Rochester, NY (direct to stereo mix)
Side B: Recorded at Nickel Studio, Hartford CT (in 4-track)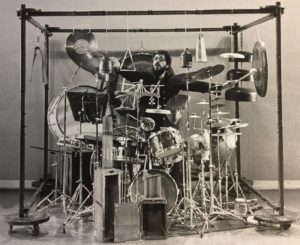 DM's percussion array. ca. 1980
=================================================================================
VOICES FOUND, by Chris Tonelli (just published)
** contains excerpts from a longer interview with David Moss, and descriptions of many of Moss' vocal projects, including the Institute for Living Voice, Direct Sound, and New Babel Choir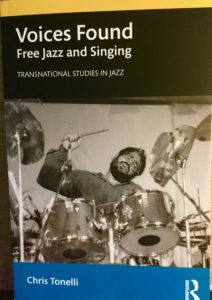 (cover photo: David Moss, drums & voice, 1991)
=============================================
DIE WELT
02 Dez. 2019
"Archaischer Totenkult und enthemmte Totenklage zerrütten den Vokalpart der Ritualszene "Aïs" (1980) auf Gesangsverse aus Homers "Odyssee" und "Ilias" nebst Sappho-Fragment, die der aus New York stammende Berliner Stimmkünstler David Moss markerschütternd durch alle Register hetzte."
============================================
The Guardian
September 12, 2019
The best classical music works of the 21st century.

13. Olga Neuwirth:  Lost Highway (2003)
David Lynch's slightly baffling film – in which a jazz musician murders his wife, goes into a psychogenic fugue and becomes another person entirely – was perfectly suited for adaptation by this eccentric Austrian composer, whose genre-straddling work explores notions of identity. An immersive production, staged by the English National Opera at the Young Vic, used film, a chirruping electro-acoustic score and the terrifying, androgynous voice of David Moss to further confuse things. JL
Read our review | Listen to the work